TRAVIOLA B2C
Retail Shops Reservation System
Traviola B2C is a complete software for agency sales and can serve networks of hundreds of agencies or travel management companies.
The B2C version of Traviola keeps the core capabilities of the B2B version, expanding the range of functionalities in direct sales to the final customer.
Traviola B2B is the perfect solution for:
Agency networks

with multiple sales points and cost centers
Travel management companies

that need to combine their own inventory with online suppliers
Individual agencies

that want access to numerous providers and services
Online agencies

that sell through call centers or websites dedicated to the end customers
Outgoing tour operators

who sell vacations also directly to the final consumer
Traviola B2C was created to simplify the travel agent's challenges in the complex process of selling to end customers, covering all steps from prospecting and inquiries to ensuring a high degree of consumer satisfaction and requesting post-trip feedbacks.
The automatic document generator, the event calendar, the CRM and the advanced search tools are just some of the functionalities that make the work of travel agents easier.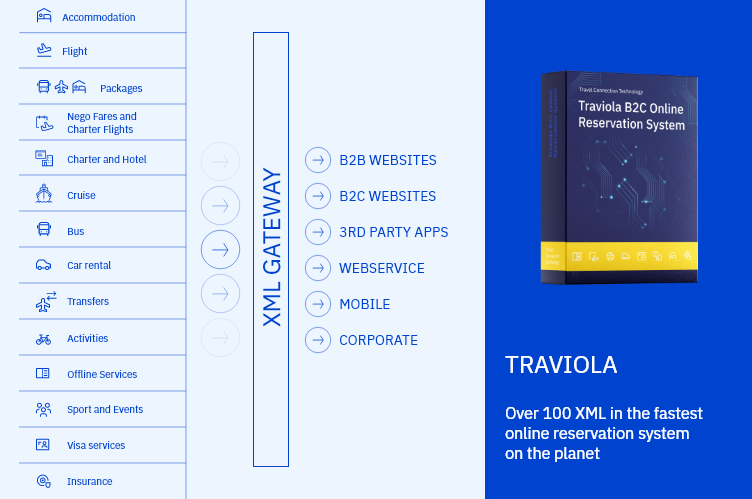 What travel services can be booked in Traviola B2C?
Flight (both GDS's content and Low-Cost Carrier)
Packages (from the connected tour operators, prebuilt in the Inventory System, or dynamically defined in Traviola)
Nego Fares and Charter Flights
Charter and Hotel (bundled services being booked in the same step)
Bus (from the integrated suppliers or hosted in the Inventory Management System)
Offline Services (the user can add offline bookings for most of the services)
One core, multiple flavours.
Built on Traviola's B2B foundation, the B2C version offers the same impressive number of online connections with travel service providers, performance, and fast search response time, saving time for the agent, who can pay more attention to the relationship with the clientele.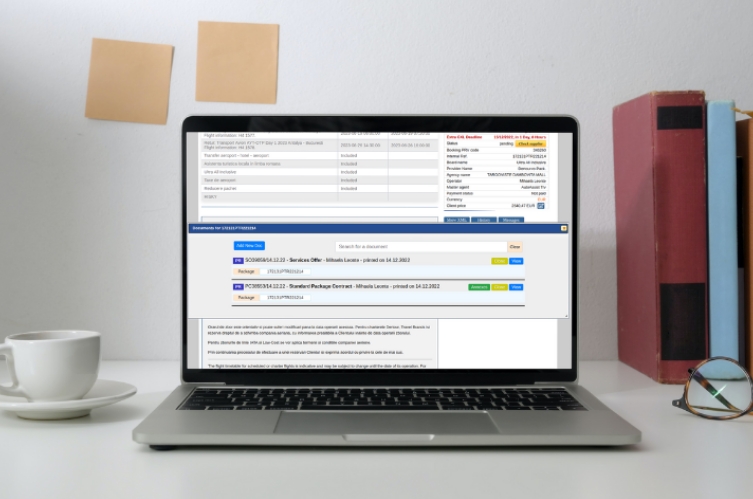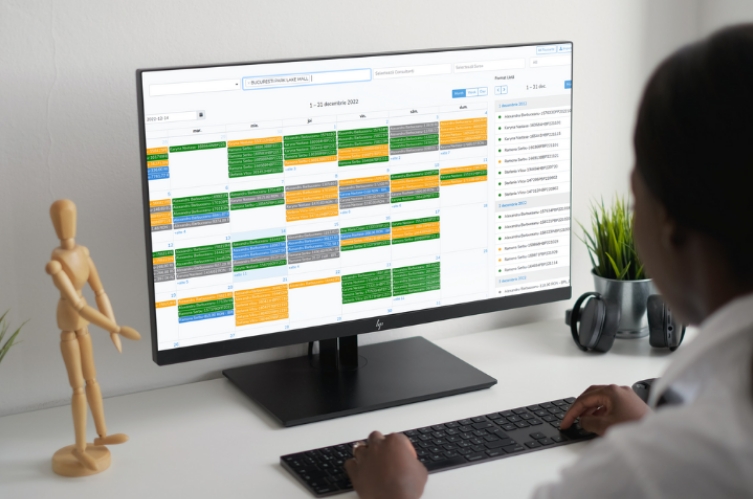 The process of searching for the perfect hotel for the client is a demanding task, and Traviola treats this subject with innovation, speed and efficiency. Traviola permanently indexes complex dictionaries of airports, destinations, hotels, and points of interest, mixing various content sources and a multitude of algorithms, resulting in a natural experience for the travel agent. From the first characters entered in the search form, the system naturally suggests all types of entities suitable for the entered information. Thus it is possible to search by geographical regions, airports, hotels, or hotel chains, by cities, or around points of interest in a destination. It can be searched on the map, in a certain area or directly by a postal address. Typing mistakes are also allowed because Traviola will correct the information based on a phonetic analysis of the entered elements, suggesting the correct term. In this way, a mistake like "Prgue", will suggest the destination Prague based on the phonetic analysis algorithm.
Control the price, increase the yield.
Combining various services from suppliers with different business models, Traviola B2C reveals to the travel agent the purchase and selling price breakdown, allowing him to maximize profit and increase the chances of a sale.
From accommodations that can combine the net price model with the gross price model to flights and cruises, where there are also taxes in addition to the ticket price, Traviola B2C normalizes all offers so they can be compared and allows the agent to add additional service fees, increasing the margin, or to offer discounts for recurrent clients.
Traviola B2C key features
Are you interested in learning more about Traviola B2C?

More than 50 clients in North and South America, North Africa, Middle East, Eastern and Western Europe and Asia.
Mohammed R.
Speed. It's like a formula. Its the most thing I like it, Friendly and Easy to use and it's providing us always with the latest technology, If you want to start with your online business in travel industry, Traviola it's the better platform to start with it and grow with it, was advisor at all the time, Thank you so much and appreciate your cooperations
2+ years used / 201-500 employees
Cosmin M.
This software is fast in response, easy to change a lot of things according your strategy, the knowledge of the travel business that they have and put into action.
501-1000 employees
Stefania O.
The fact that it covers a diversity of product categories: Hotels, Charters only, Packages, Activities, etc.; the reservations auto-cancellation functionality prior to cancellation deadline unless the agent fixes the booking.
Traviola
Hossam A.
We distributed our B2B to our partners in different parts of the world and our business and distribution went up by 30 % after using the system in the first year . We are getting a growth of 20 % at least every year and the system and our sales team are behind that.
11-50 employees
Tatiana L.
It's very convinient and easy to use. There are many functions we need in daily in work. And if we need something else it is possible to create . There are very good and useful reports for statistics and internal use. Very conviniet searching module. Extranet is very good. I'm inputting all our contract hotels and ther is no difficulty for me to work. Very positive and helpful stuff. I can be sure that in any cases they will help and give me good advice
11-50 employees
Noa S.
I like its simplicity of use. The stages are clear, and it saves time. Good navigation, and lots of flexibility to changes, so it keeps up with the changing needs. We needed to modify a few things over time - no problem at all to achieve!
11-50 employees
Lyubomir V.
All kind of services at one place, very easy to work, very quick upload the content, brilliant map, very important that you can see the invoices at the same place , great and very personal support from TCT, open to make new development,
11-50 employees