What is BI and Reporting?
The Business Intelligence and Reporting module is a tool that allows you to take business decisions for growth by measuring and comparing the supplier's and operators' performance.
It records hundreds of metrics and stores all this big data in modern persistence layers, making it instantly available in the form of various custom reports.
Being connected to all Traviola selling platforms, the Business intelligence and Reporting module deliver critical information for any company using TCT booking systems.
Starting with the first interaction with the system and ending with complex aggregations of various types of data, the BI and Reporting tool collects constantly all relevant input, based on Traviola processes, aggregating in real-time the information under the form of templated reports, displayed or exported instantly to the user.
Because all available reports are calculated asynchronous and on a separate infrastructure, this highly consuming work doesn't affect the booking system in terms of performance, making all the metrics available instantly. So, once an operation occurs in Traviola Booking System, it is immediately indexed and available in various reports.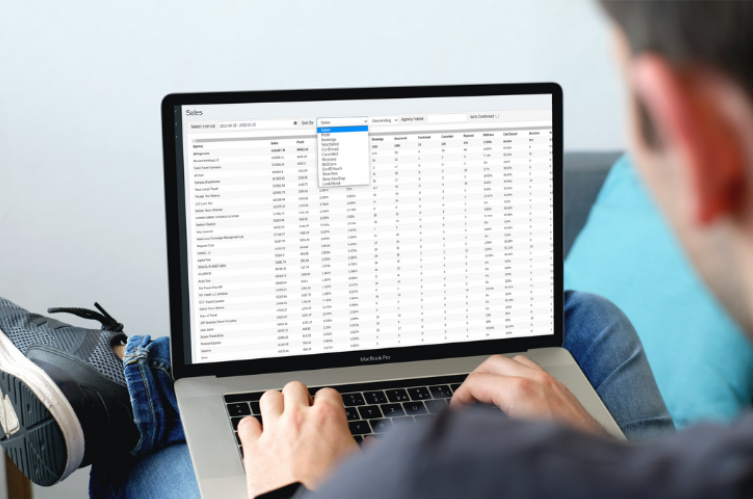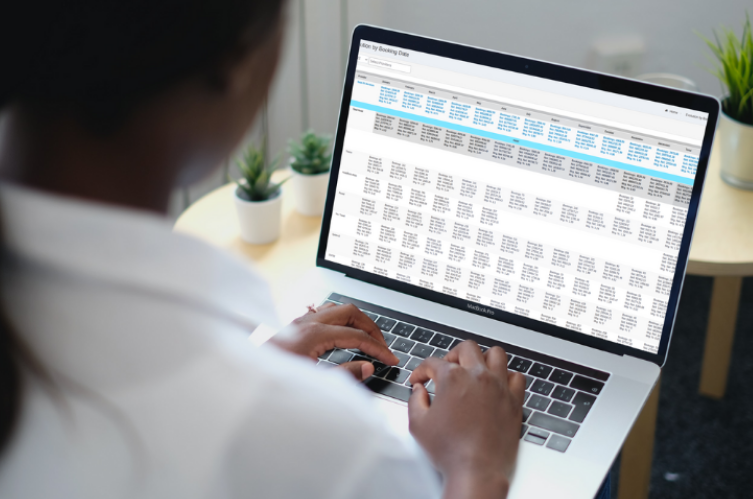 One of the most important reports is the sales one, and the Sales Report in the BI and Reporting tool is presenting the sales activity, brokedown under more than ten metrics, split by client and period of time, including all the operations since one second prior to being displayed to the user.
Covering sales and profit, under the form of value and share, and analyzing the client's performance by look-2-book and book-2-cancel ratios, the report can be requested by various criteria and can be ordered considering various fields.
Year to year reports. Profit by destination and hotels.
The most prolific destination or hotel, the most performant supplier, or year-to-year compared reports are available instantly.
The reports can be filtered by time frames, countries, and other criteria
, and the returned data includes the number of searches and bookings, amounts, and margin per unit. Complex reports offering decision taking advices can be rendered in no time.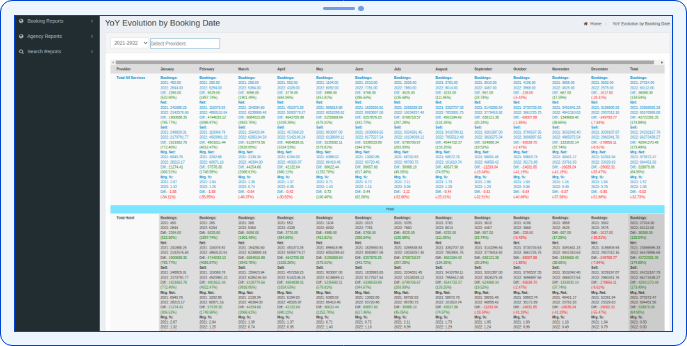 The hourly heat map and flights related reports.
Is it important for you to know when is the most prolific moment of the day, or what day of the week is bringing the most income to you? No worries. The BI and Reporting Module calculate and aggregate continuously all quotations and bookings made in your system, maintaining a dynamic and ever-changing report, showing you the most intense days of the week and hours of the day, in terms of orders and searches, split by services.
If flight selling is the core of your business, there are various reports, like the ones related to segments sold by airline companies or the most prolific airports, which will allow you to adjust the margin wisely to increase the profit based on this data.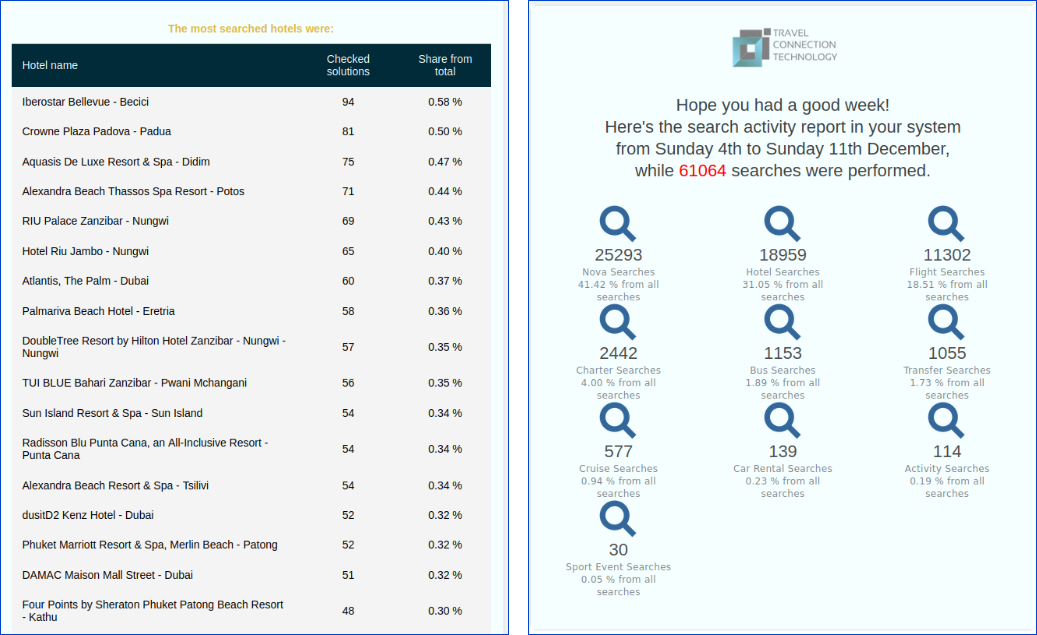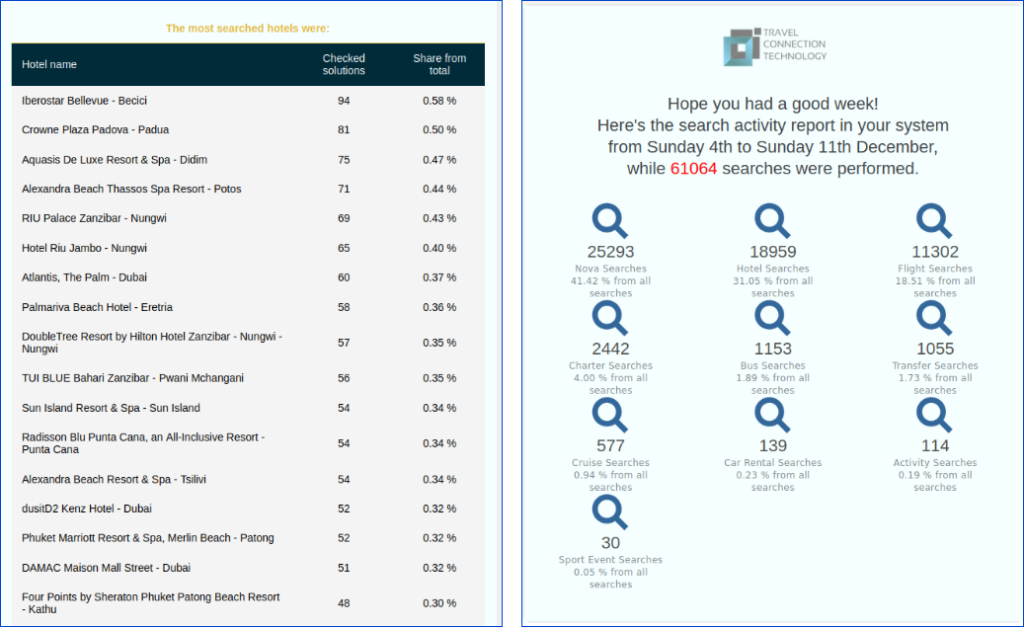 Automatic reports sent by email
Weekly, the BI and Reporting tool creates a nicely structured email that will arrive in your inbox, informing you what happened in your system lately. Information like clients who performed the best, destinations of high interest for your clients, or products that are in trend, are rendered in a short and good-looking email, giving you the best insight in a few seconds.
BI and Reporting key features
Are you interested in learning more about BI AND REPORTING?

More than 50 clients in North and South America, North Africa, Middle East, Eastern and Western Europe and Asia.
Mohammed R.
Speed. It's like a formula. Its the most thing I like it, Friendly and Easy to use and it's providing us always with the latest technology, If you want to start with your online business in travel industry, Traviola it's the better platform to start with it and grow with it, was advisor at all the time, Thank you so much and appreciate your cooperations
2+ years used / 201-500 employees
Cosmin M.
This software is fast in response, easy to change a lot of things according your strategy, the knowledge of the travel business that they have and put into action.
501-1000 employees
Stefania O.
The fact that it covers a diversity of product categories: Hotels, Charters only, Packages, Activities, etc.; the reservations auto-cancellation functionality prior to cancellation deadline unless the agent fixes the booking.
Traviola
Hossam A.
We distributed our B2B to our partners in different parts of the world and our business and distribution went up by 30 % after using the system in the first year . We are getting a growth of 20 % at least every year and the system and our sales team are behind that.
11-50 employees
Tatiana L.
It's very convinient and easy to use. There are many functions we need in daily in work. And if we need something else it is possible to create . There are very good and useful reports for statistics and internal use. Very conviniet searching module. Extranet is very good. I'm inputting all our contract hotels and ther is no difficulty for me to work. Very positive and helpful stuff. I can be sure that in any cases they will help and give me good advice
11-50 employees
Noa S.
I like its simplicity of use. The stages are clear, and it saves time. Good navigation, and lots of flexibility to changes, so it keeps up with the changing needs. We needed to modify a few things over time - no problem at all to achieve!
11-50 employees
Lyubomir V.
All kind of services at one place, very easy to work, very quick upload the content, brilliant map, very important that you can see the invoices at the same place , great and very personal support from TCT, open to make new development,
11-50 employees